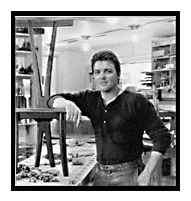 Raised in a large farming family in rural Pennsylvania, Larry Hepler has been influenced by strong, simple forms and the values of durability and utility. After receiving his B.A. in economics from Kutztown State University in Pennsylvania, Larry visited the island of Martha's Vineyard in Massachusetts 25 years ago and decided to make it his home. During the early years when he worked there as a farmer and home builder, ideas for furniture began accumulating. He went to Humber College of Applied Arts in Toronto, Canada to study furniture design, then returned to Martha's Vineyard to design and build his workshop, and later his house, by hand. Larry lives with some of his earliest pieces (dining table, certain beloved chairs) even as he constantly explores new shapes that will capture what a client has in mind for a particular setting.
Larry's goal as a designer and craftsman is to produce furniture that does its job with grace. His designs are intended to be used and enjoyed daily, incorporated into life, not set apart only to be admired. It is no coincidence that he works in wood, a living medium with character that changes and deepens with age and use. Larry is less interested in creating something different than in executing something exceptionally well. His designs rely on gentle, sweeping curves, flaring shapes and subtle details that work with the nature of the wood. Even his contemporary pieces don't tend toward sharp edges, acute angles, hard corners or exotic materials.
Larry uses only hand selected, highest quality domestic hardwoods, rather than veneers. He works in cherry, maple and walnut plus plantation teak and occasional specialty woods for detail. Following his late father's advice, "It doesn't matter so much what you do as how you do it," each piece is made by a small team of Island craftspeople rather than computerized machines. Larry personally works on some aspect of each piece. Designs incorporate the natural requirements of wood that expands and contracts with the weather, as well as the principals of ergonomics for the comfort of those who use the furniture. Joints are handfitted and surfaces are hand rubbed in five coats to provide protection and bring out the wood's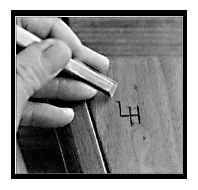 natural grain and patina.
Because he wants any piece to fit a client's life and home, Larry will adapt any design or create something unique for a special situation. Many of his clients collect Hepler pieces and have a role in creating them. Timeless designs and superior craftsmanship are Larry's legacy and yours. He stands behind both his designs and workmanship; each piece is guaranteed against structural failure for the life of the original owner. This is art that is intended to be used, furniture for you to enjoy and to hand down.